Efficient Storage Sheds
Lofted barn sheds enhance organization and storage capacity. These barn-shaped sheds feature overhead lofts which maximize the use of vertical space. Homeowners can stow items in the loft, leaving the main area tidier and better organized. Use the loft to tuck away seasonal items, like clothing, or decorations, boxes, totes, or camping gear, and leave the main area open for items you access more frequently.
Enhance Your Outdoor Living Space
Growing families often develop creative ways to gain additional personal space. If you are looking for a separate living space, a utility or lofted barn shed is a popular choice for a she-shed or man cave. You can escape to a luxurious detached building, enjoying time outside of the home, still surrounded by your favorite furnishings, toys, and other belongings. These sheds also make ideal structures for summer lounges and enhanced outdoor living spaces.
Browse our collection of lofted barns.
Advantages of Wood Sheds
Our wood sheds offer unique advantages over metal or vinyl sheds. Wood is an age-old material for buildings, including lofted sheds, because it is aesthetically pleasing and easy to customize. Wood storage sheds are versatile and can double as workshops or summer living areas. Many other customers use wood sheds for their man caves or she-sheds.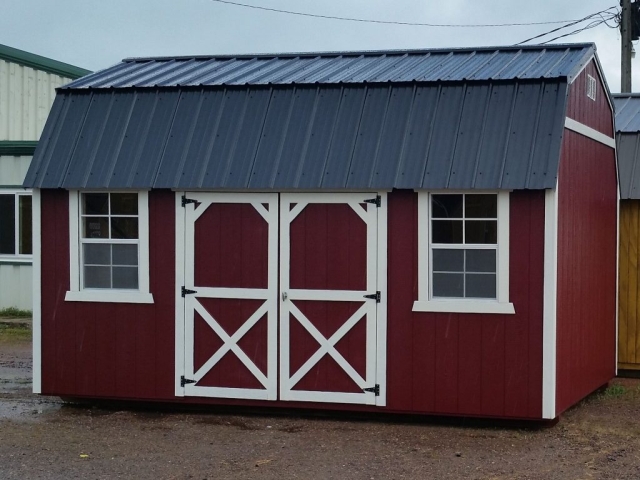 High-Quality Old Hickory Sheds
Old Hickory sheds have earned a reputation for exceeding customer expectations. For over 25 years, Old Hickory has created wood sheds using traditional Mennonite craftsmanship and techniques that have been passed down from generation to generation. Care and meticulousness are evident in every building they create, and each Old Hickory Shed is backed by a 5-year warranty. Contact Cache Valley Sheds for more information about Old Hickory Sheds or other types of outdoor storage buildings we provide.
Are you interested in an estimate?