Product
Single Plank
Double Plank
Triple Plank
Size
23″ x 42″
23″ x 42″
23″ x 42″
Capacity
1226 lbs per tire
1226 lbs per tire
1226 lbs per tire
Price
$181.07 plus tax*
$362.14 plus tax*
$543.21 plus tax*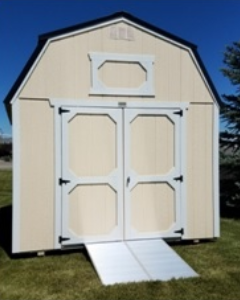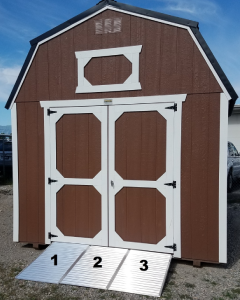 How to Buy Your New Shed Ramps Online
As a quality utility sheds dealer, we have partnered with ShedRamps.com to provide top quality ramps that work flawlessly with our Old Hickory Sheds. Choose from several different sizes and use Coupon Code 242 to save 10% off at checkout and your ramps will be drop shipped to your address.
Quality Shed Ramps
Shed ramps are made from aluminum, featuring horizontal texture grips for your lawn tractor, hand truck, or utility wagon's tires. Featuring 5 different kit setups, each ramp is versatile, and designed to fit outbuildings of many different sizes. The heavy duty aluminum is rust free, and will never rot or warp like wooden ramps. The doors to your shed or other outbuilding will be able to close freely with your ramps in place. All needed hardware is included in the purchase price, and the only installation tools needed are an electric drill with a phillips screwdriver bit.
To Buy Shed Ramps Locally from Cache Valley Sheds
If you desire to purchase ramps for sheds with local pickup, please feel free to visit us in person at Cache Valley Sheds, at 3875 US-91 Hyde Park, UT. We carry a 23″ x 42″ shed ramp size for local pickup. For more information, or if you have questions, call us. 435-881-6687
Are you interested in an estimate?