3 Reasons To Buy A Shed In December
December Is Running By
December isn't the month people tend to think about buying sheds. People think setting a shed up is a construction job and that's more of a spring and summer thing. If you're looking to buy, though, now might actually be a good time. We haven't had any major snowstorms yet, so the ground isn't completely frozen or unreachable. That means we can still get it set up fairly easy.
But why would you buy a shed in December? Well . . .
1. Christmas Gift
A shed can serve as a great Christmas gift to someone who needs one. Get the order in and we'll have it ready to go for spring. They won't have to wait around for construction season to get some use out of it. Whether they're looking for a pool shed, a tool shed, a shed to store sports equipment, or whatever else you can think of, we've got something that'll work for you.
2. A Place To Work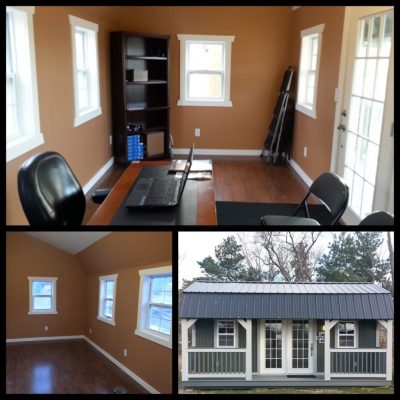 It doesn't seem like Covid-19 is going anywhere. I'm hearing some estimates that we might need to be taking precautions as far as into 2022. If that's the case, a lot more people will be working from home for a lot longer than we all thought. If you're one of those people, you still need a place to work where you can get some privacy and focus, right?
A shed is a great way to do that. Whether you use it as an office, or a place for your kids to play to get them out of your hair, having a shed can help give you the space and privacy you need to get work done.
3. Clearance Prices!
Perhaps the reason why now is the best time to buy a shed is because so many people don't. Demand is never lower than it is in winter. That means prices go down and you can get a solid deal. It's also the point where new models are ready to come in and we have to clear the lot. We'll have some great clearance deals ready for you to take advantage of. On top of that, the bulk discounts from our suppliers let you avoid some of the price gouging you'd get from other sellers.
Our Sheds Are Great!
If you want to be able to use your shed right away, we have options for that, too! We can give you strong insulation to keep the interior warm, letting you keep using your shed even when it gets cold. Our sheds are engineer certified, so you can rest assured they'll be able to handle the weight of the snow we'll get this winter, keeping them safe to use whenever you need them.
Ready to buy? Get in touch with us today! We'll give you the best deal you'll find anywhere in Cache Valley!
https://cachevalleysheds.com/wp-content/uploads/2018/04/23737953_1750655795006577_1512287296180839941_o.jpg
1536
2048
Jared Harris
https://cachevalleysheds.com/wp-content/uploads/2021/09/Cache-Valley-Sheds-Logo-Border-400x154.jpg
Jared Harris
2020-12-23 16:02:01
2022-11-09 12:24:28
3 Reasons To Buy A Shed In December