Cache Valley Sheds 2021 Update
2021: In With The New
2020 is over and 2021 beings. With the new year come new sheds from our suppliers at Old Hickory Sheds. We've got a couple of new options available. In case you missed the update, here's what we've got.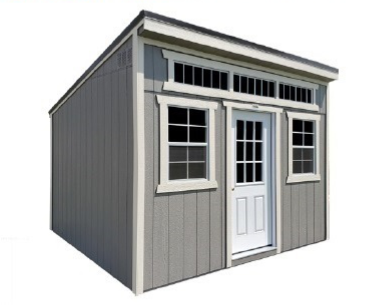 Studio Shed
Want a simple, but sturdy building for personal use? The studio shed is a small building perfect for art studios, personal home offices, or just a place to sit and think. It's lean-to style roof lets you place it against trees or property boundaries to integrate it into the natural landscape. The high front gives you lots of space for windows to let in natural light. It has a variety of window and door options to customize it to your needs and liking. Once installed, it makes a great place for you to go if you need to shut out the world and focus on your work.
Gable Dormers
The Gable Dormer is a good-sized shed designed to function as a landscape feature as well as storage. These buildings are pressure-treated to give maximum stability and function. It comes standard with one octagonal window, but has options for additional windows, including windows on the door. If you need more space and have room for it in your yard, multiple dormers can be added to the building size. This is a great option if you need a lot of storage space.  It's also great if want something that can easily be blended with your landscape for a natural look. With good yard maintenance and landscaping design, you can make something that's functional and looks great.
Materials Are In High Demand
Last September, we talked about how a combination of Covid-19 and several fires in major lumber farms was causing a massive increase in demand, while shrinking the supply of building materials. This bad combination was responsible for large price hikes as suppliers struggled to keep up with demands. The supplies are becoming more limited, so our supplier would like you to know that there will be additional wait times needed to get sheds built and delivered. If you want to custom order something that's not on our lot, you're going to have to plan for an extra wait time. If you have a tight deadline that you need, be sure to order ahead of time so we can get it to you when you need it!
We're Still the Best!
If you're looking to buy a shed here in Cache Valley, we're still the best option for you. Old Hickory's high standards of quality means that all of our products are engineer certified. They'll last longer than our competition. We can get them built to suit whatever your needs are, so you get exactly what you want from us. Since our suppliers buy in materials in bulk, they get discounts we can pass on to you. For something of equal quality, you can't beat us on price!
If you're looking to buy a shed this year, we can help you get just what you need. Remember to plan for additional wait times due to ongoing shortages; now might be the perfect time to buy! Get in touch with us to find out what we've got available, what we can get for you.
https://cachevalleysheds.com/wp-content/uploads/2021/02/Studio-Shed.png
305
387
Jared Harris
https://cachevalleysheds.com/wp-content/uploads/2021/09/Cache-Valley-Sheds-Logo-Border-400x154.jpg
Jared Harris
2021-02-09 11:40:59
2022-11-09 12:23:21
Cache Valley Sheds 2021 Update